Can't make it to McMinnville?  Order some of these special items online.
Feel free to call or e-mail and request other products you've seen in the shop or on the Gift Shop web page.  We'll ship if we have it in stock!
L. Virginia French's War Journal
00001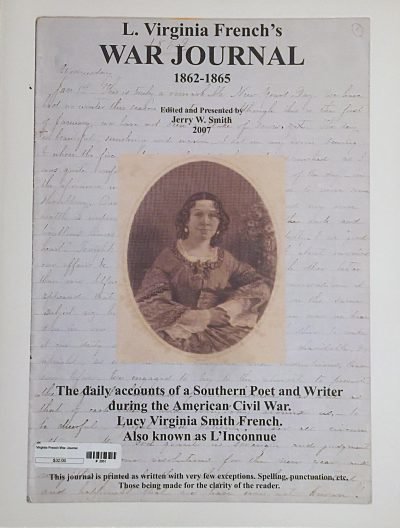 L. Virginia French was already a well-known author when the Civil War surrounded her hometown of McMinnville, Tenn. She kept a journal of her experiences every Sunday during the war, from 1861-1865, eloquently showing the effect of the conflict on the local inhabitants and their way of life. Virginia is one of the main characters for Falcon Rest's "Honeymoon Ball of Gen. John Hunt Morgan" group entertainment show. This journal was the source for much of the historical background of the script.
Edited and published by Jerry W. Smith of Blockade Runners sutlery in Wartrace, Tenn.
203 pages, paperback.
Shipping is for two-day mail. To save on shipping, request media mail rate, ~$4.00. Delivery time varies.